Foil Packet Camping Meals You'll Love
Keep meal planning easy with these 20 foil packet camping meals. Cook them over a fire, on a grill, or even in your RV oven. All ingredients can be prepped in advance, and there is no messy pan to clean.
Foil packet meals are great to cook at home too. We love making them anywhere with our portable grill. This one is the best! Here are a few recipes to get your foil packet meal plan started.

20 Foil Packet Camping Meals
BBQ Chicken and Veggie Packets – Why not combine your outdoor BBQ summer love with this great foil packet recipe? It's delicious and perfect for outdoor dinners.
Shrimp Boil Foil Packets – If you love your shrimp on the grill or in the oven, this recipe is the one that you've been waiting for!
Peppers, Onions, and Potatoes – This foil packet of peppers, onions, and potatoes are perfect for a campfire dinner. Once those smells start rolling out of that foil, you know it's time to eat.
Grilled Pineapple, Chicken and Vegetable Foil Packets – Treat your taste buds to this fun combination of sweet with a bit of spice.
Grilled Turkey Sausage and Vegetable Foil Packets – Perfect for a late dinner or super early breakfast, everyone loves the combination of turkey sausage and veggies. And if you really want to make it breakfast food, cook up a few eggs to go along with it.
Basil and Lemon Baked Salmon – A delicious and healthy alternative that is certain to delight your taste buds!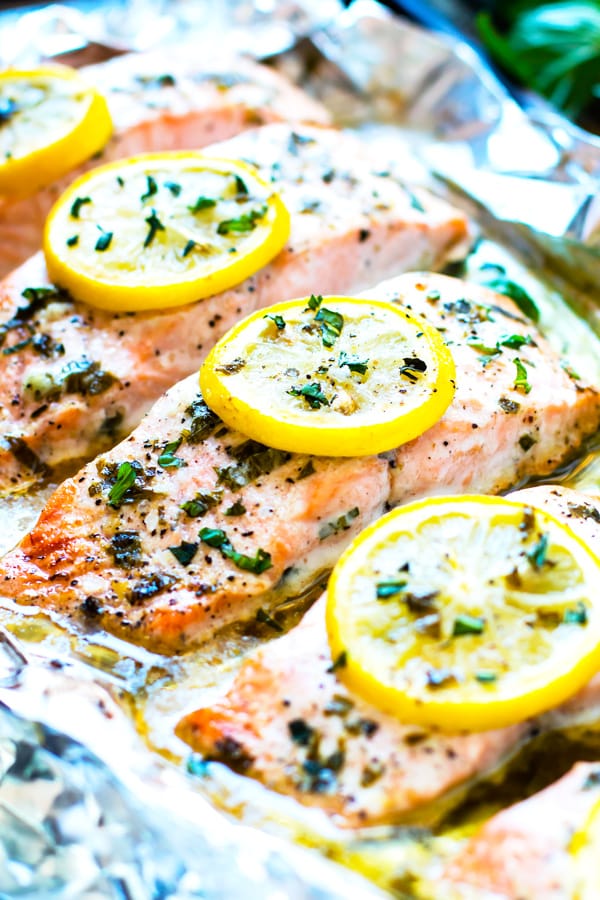 Grilled Potatoes and Vegetables – Don't like meat with your foil pack meals? No problem! This vegetarian dish tastes amazing as well!
Grilled Peach Crisp – Yes, it's possible to have your dessert on the grill and eat it, too. After one bite of this Grilled Peach Crisp, you may never cook dessert in your oven again.
Grilled Caramel Apple Crunch  – And just in case you need a second dessert recipe in your grilling cache, this caramel apple crunch is a game-changer.
Easy Chicken Enchilada – Any foil pack recipe that starts with the word "easy" is a winner and a must-try! Trust me…you won't be disappointed with this delicious meal.
Foil Packet Hawaiian BBQ Chicken  -The flavor is out of this world on this foil pack recipe! You'll be hooked after making this one time.
Italian Sausage, Pepper and Potato Packet  – One of the best combinations to grill up is the taste of sausage, pepper, and potatoes. It's a hearty comfort food that everyone loves.
Lemon Sole Tin Foil Meal with Parmesan Potatoes  – Another great tasting recipe that kicks it up a notch with parmesan potatoes. Simply delicious!
Foil Packet Potatoes  – There is something delicious about just good ol' potatoes cooked in foil. This recipe is one of those comfort dishes that will keep you coming back for more.
Cajun Shrimp Foil Packet  – A super quick and easy dinner recipe that is certain to be a hit for your family!
Asian Butter Salmon in Foil Packets  – Is there any better flavor than perfectly cooked salmon?
Grilled Chicken Pockets  – Super simple and delicious, this recipe is packed full of fun flavor.
Easy Mexican Tin Foil Dinners – Cooking with foil is a breeze when it comes to this simple foil recipe.
Grilled Sausage Foil Packets with Cabbage and Potatoes – The combination of cabbage and potatoes on the grill is delicious!
Gluten-Free Grilled Sausage and Vegetable Foil Packets. Simple to make and even easier to customize for everyone's dietary needs.
Cooking with foil is a great option for camping. You can combine many different foods and flavors for any meal of the day. Plus clean up is a breeze! All you have to do is throw the foil away.
If you like this post, you'll also enjoy these 21 Easy and Delicious RV Dinner Ideas and 20 Delicious Burgers for Your Next BBQ.
More Meal Planning Ideas:
---
---